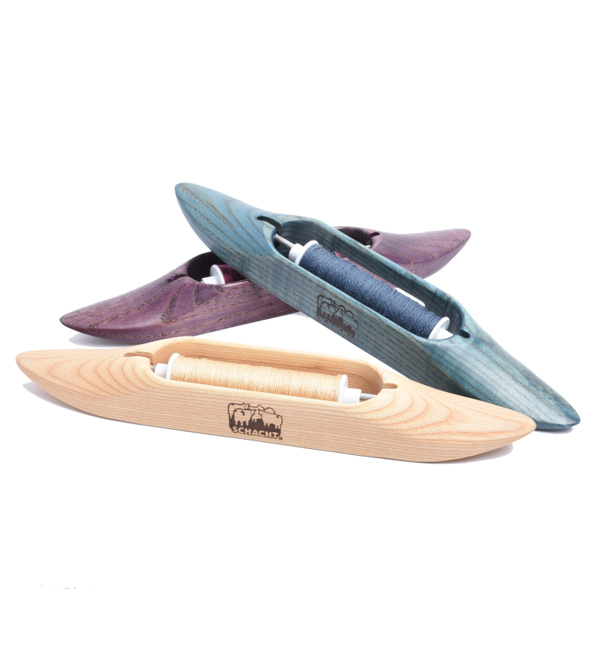 Schacht 50th Anniversary Dyed Shuttles / 2color
미국의 샤흐트 스핀들 컴퍼니에서 생산하는
샤흐트사의 50주년 한정판 모델.
처음으로 에쉬염색의 셔틀을 제공합니다! 우리가 애쉬 우드에 대해 좋아하는 것은 강한 그레인 라인입니다. 이 셔틀은 자연스럽게 잘 보일뿐만 아니라 두 가지 기념일 색상으로 멋지게 염색 되었습니다.이 한정판 셔틀은 3 가지 색상으로 제공됩니다
For the first time, we're bringing you ash shuttles! What we love about ash wood is the strong grain line. Not only do these shuttles look good au naturel, but they look great dyed up in two of our anniversary colors.
Schacht 50th Anniversary Dyed Shuttles (11" Slim Open Bottom Boat Shuttle / 2color)
Our boat shuttles are beautifully shaped and well balanced. They are sanded smooth and then given a hand-rubbed Danish oil finish. Three sizes are available: 11" This duck-nosed shuttle is wonderful for narrow widths and fine yarns. Our most popular boat shuttle, the 11" boat shuttle.
The slim 11" boat shuttle from Schacht is our favorite shuttle for use with the Baby Wolf looms in our classroom. The lower profile is perfect for the somewhat smaller sheds that are typical with workshop looms. The ends of the shuttle taper to a tip with a slight curve upward, which helps keep the shuttle from catching threads on the lower part of the shed. The shuttle is available in closed bottom versions in maple. All shuttles come with a rubbed oil finish and accept a 4" Schacht bobbin (not included).
Available Sizes:
11 inch Slim / 28cm (4 inch bobbins)
샤흐트 스핀들 컴퍼니 - 50주년 기념 염색셔틀 (11인치 슬림한 오픈 바텀 보트셔틀/2가지 색상)
아름답게 디자인된 본제품은 뛰어난 밸런스를 가지고 있습니다. 부드러움을 위해 샌딩작업이 되어 있고 덴마크산 오일로 마감 되었습니다. 본 제품은 11" 사이즈의 슬림모델로 제공됩니다. 오리 입술같은 디자인의 본 제품은 좁은 너비의 공간에도 유려하게 작업할수 있습니다. 가장 유명한 제품은 11" 보트셔틀입니다.
Schacht의 슬림 한 11 인치 보트 셔틀은 강의실에서 Baby Wolf 직기와 함께 사용하기에 가장 좋아하는 셔틀입니다. 하단 프로파일은 작업장 직기에서 일반적으로 사용되는 다소 작은 창고에 적합합니다. 셔틀은 창고의 아래쪽에 실이 끼지 않도록 도와주는 약간의 곡선으로, 셔틀은 메이플의 폐쇄 형 하단으로 제공됩니다. 모든 셔틀에는 문질러 진 오일 마감 처리가되어 있습니다. (보빈 포함되지 않음).
사이즈:
11 인치 / 28센티 슬림 (4인치 보빈 사용)
+ 본재품은 해외제작 핸드메이드 수공예 제품으로 주문후 오더되는 상품입니다. 취소시 당일 취소만 가능하며 배송준비 상태에서는 취소, 교환, 환불 불가 상품입니다.
+ 룸 형태의 모든 재품은 조립전 상태로 도착하여 직접 조립해 사용하시는 제품입니다. 설치,조립을 추가 요청할 경우 견적에 따른 비용은 별도 입니다.
---
배송안내
· 배송비 : 기본 배송료는 3,500이며, 100,000원 이상 구매시 무료입니다.
(단, 택배 배송이 불가한 유로 화물 표시된 제품은 무료 배송에서 제외되며 각 상품에 표기된 배송비로 진행됩니다)
(도서,산간,오지 일부지역 및 별도의 화물 용달배송은 배송비가 추가될 수 있습니다)
· 본 상품의 배송 가능일은 최소 3일 최대 7일이며, 주문 후 제작되는 상품의 경우 다소 늦어질수 있습니다
(주문하신 상품의 입고일이 지연될 경우 배송일정 개별 연락 드립니다).
배송 가능일이란 본 상품을 주문하신 고객님들께 상품배송이 가능한 기간을 의미합니다.
배송예정일은 주문시점(주문순서)에 따른 유동성이 발생하므로 평균 배송일과는 차이가 발생할 수 있으며,
연휴 및 공휴일은 기간 계산시 제외하며 현금 주문 일 경우 입금일 기준 입니다.
· 구매자의 단순 변심으로 인한 청약철회의 경우 (해외 배송비를 포함한)왕복 배송비를 부담하셔야 합니다.
교환 및 반품안내
· 상품 택(tag)제거 또는 포장(박스) 개봉으로 인한 상품 가치 훼손 시에는 상품수령후 7일 이내라도 교환 및 반품이 불가능합니다.
· 저단가 상품, 일부 특가 상품의 경우 고객님의 변심에 의한 교환/반품은 고객님께서 왕복 배송비를 부담하셔야 하며
기프트 상품이 포함된 배송의 경우 주문상품과 함께 동봉하여 새 상품 그대로 반품 주셔야 합니다.
(제품의 하자, 배송오류는 제외)
· 각 제품은 시장 가격 변동 및 환율변화 사정으로 판매가격이 변동될 수 있습니다.
· 핸드메이드 상품의 경우, 해외 오더 진행후(배송준비중 상태)에는 제품 하자나 오배송의 경우를 제외한
고객님의 단순변심으로 인한 교환, 반품이 불가능할 수 있사오니 각 상품의 상품 상세정보를 꼭 참조하십시오.
· 주문자 의 부득이한 사유로 본사 협의 후 환불이 진행될 경우 해외 오더 진행후(배송준비 또는 발송완료 상태) 주문취소건으로
상품 가격의 10%의 위압금이 발생되며 배송진행 후 환불 취소시 위압금과 별도의 배송진행비 결제재후 취소 처리 되오니 신중한 구매 부탁 드립니다.
· 반품, 환불은 본사 상담 접수후 진행 되며 반품, 교환 시
로젠택배 1588-9988 연락주셔서 방문 예약 잡아주시고 반품 배송비 결제 후 착불로 보내주세요.
환불안내
· 상품 청약철회 가능 기간은 상품 수령일로 부터 7일 이내의 반품 상품 도착과 함께 진행됩니다.
· 제품 포장용 상자를 개봉/훼손 하거나 택을 제거한 경우 환불이 불가하오니 이점 참고해주세요.
A/S안내
· 소비자분쟁해결 기준(공정거래위원회 고시)에 따라 피해를 보상받을 수 있습니다.
· 핸드메이드, 수공예 제품은 A/S가 불가능 한점 양해부탁드립니다.
(손상된 부품은 별도 주문 가능합니다. 전화상담 또는 Q&A로 문의 주세요.)