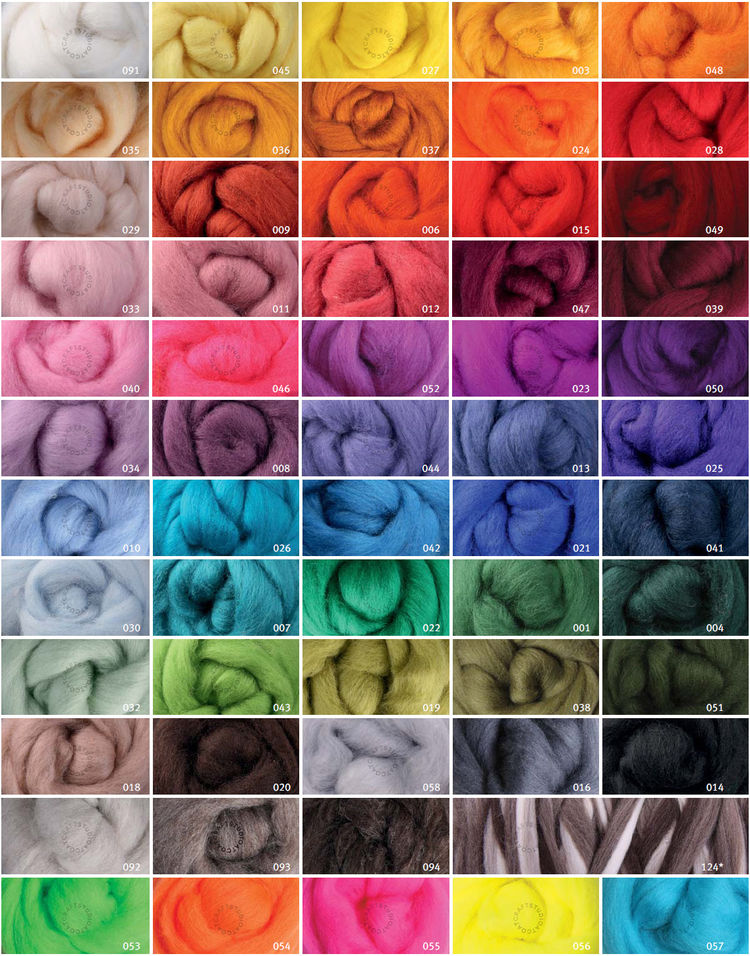 Ashford Corriedale Wool Sliver 60 Color
Corriedale wool has a defined, even crimp and is smooth and easy to spin or felt. You can spin a fine to medium woollen, worsted or semi-worsted yarn. Corriedale will bulk after washing and has good elasticity. It is ideal for baby wear, woven, knitted or crocheted garments.
Ashford Corriedale sliver is a 100% New Zealand product with wool from pasture-fed sheep from our high country sheep stations. We know many of the farmers – some of whom have farmed the land for generations. They take great pride in the quality of their wool and the high standard of animal husbandry. The sheep are well cared for and are not mulesed.
After the sheep are shorn, on the farm, the wool is carefully skirted and checked. Only wool that is sound, clean with good fibre length, bulk and colour is selected. It is sent to a boutique New Zealand mill to be dyed, carded and combed.
It is scoured (washed) using an environmentally-friendly, biodegradable detergent . The wool is then dried and dyed. The dyes comply with the strict EU regulations and garments made from the sliver can be certified under the Oeko-Tex Standard 100. This standard is the most widely known standard for certification of ecologically-safe clothing. (Detailed information can be found at www.oekotex.com). The fibre is then gently opened and conditioned. Carding machines align the fibres and remove any foreign matter. It is then gilled and combed.
코리데일 양모는 부드럽고 스핀과 펠트 작업을 쉽게 가능하게 합니다. 심지어 크림프가 있습니다. 중간 모직, 소모사 또는 반소사로 스핀 할수 있습니다. 코리데일은 워싱후에 부피와 탄력이 좋아집니다. 이것은 아기옷, 우븐, 니트나 크로셰 의류에 어울립니다. 애쉬 포드 코리데일 슬리버 (Ashford Corriedale sliver)는 우리 고지대 양떼의 목장에서 양떼를 얻은 양모로 만든 100 % 뉴질랜드 산 제품입니다. 우리는 많은 농민을 알고 있습니다 - 그 중 일부는 수 세대 동안 땅을 경작했습니다. 그들은 양모의 품질과 높은 수준의 축산업에 큰 자부심을 가지고 있습니다. 양들은 잘 보살펴지며 그들은 잡종이 아닙니다. 농장에서 양털을 깎은 후에 양모를 조심스럽게 확인합니다. 울, 좋은 섬유 길이, 벌크 및 색상으로 깨끗한 양모 만 선택됩니다. 그것은 부티크 뉴질랜드 공장으로 보내져 염색되고, 카드 처리되고 빗질됩니다.환경 친화적인 생분해성 세제를 사용하여 세척합니다. 양모는 건조되고 염색됩니다. 염료는 엄격한 EU 규정을 준수하며은으로 만든 의류는 Oeko-Tex Standard 100 인증을받을 수 있습니다.이 표준은 생태 학적으로 안전한 옷 인증에 가장 널리 알려진 표준입니다. (자세한 정보는 www.oekotex.com에서 찾을 수 있습니다). 양모는 그다음 부드럽게 열리고 조절됩니다. Carding 기계는 섬유를 정렬하고 이물질을 제거합니다. 그 다음에는 주름져서 빗질됩니다.
Corriedale 30 Micron. Soft wool for fine-medium spinning. Ideal for baby wear, woven, knitted, crocheted, felted garments and homeware.
Available in 60 beautiful modern colours.
Choose from two sliver weights 50g, 100G, 500G, 1kg
뉴질랜드에서 생산되고 가공, 염색되는 100% Corriedale Sliver 입니다.
코리데일 양모는 30 Micron으로 메리노 양모(23 Micron)보다 양모입자가 더 굵어서 거친 편입니다.
미디엄 스피닝 뿐 아니라 니들펠트의 베이스울로 매우 적합하며 장갑, 러그,가방등 하드한 물펠트 작업에 추천해 드립니다.
60여 가지의 풍성한 칼라가 준비되어 있으며 무게는 50g, 100g, 500g, 1kg 으로 제공됩니다.
(무게로 판매되므로 양모의 부피는 다를 수 있으며, ±1~3g 정도의 오차가 있을 수 있습니다)

+ 본재품은 해외제작 핸드메이드 수공예 제품으로 주문후 오더되는 상품입니다. 취소시 당일 취소만 가능하며 배송준비 상태에서는 취소, 교환, 환불 불가 상품입니다.
+ 룸 형태의 모든 재품은 조립전 상태로 도착하여 직접 조립해 사용하시는 제품입니다. 설치,조립을 추가 요청할 경우 견적에 따른 비용은 별도 입니다.
---
배송안내
· 배송비 : 기본 배송료는 3,500이며, 100,000원 이상 구매시 무료입니다.
(단, 택배 배송이 불가한 유로 화물 표시된 제품은 무료 배송에서 제외되며 각 상품에 표기된 배송비로 진행됩니다)
(도서,산간,오지 일부지역 및 별도의 화물 용달배송은 배송비가 추가될 수 있습니다)
· 본 상품의 배송 가능일은 최소 3일 최대 7일이며, 주문 후 제작되는 상품의 경우 다소 늦어질수 있습니다
(주문하신 상품의 입고일이 지연될 경우 배송일정 개별 연락 드립니다).
배송 가능일이란 본 상품을 주문하신 고객님들께 상품배송이 가능한 기간을 의미합니다.
배송예정일은 주문시점(주문순서)에 따른 유동성이 발생하므로 평균 배송일과는 차이가 발생할 수 있으며,
연휴 및 공휴일은 기간 계산시 제외하며 현금 주문 일 경우 입금일 기준 입니다.
· 구매자의 단순 변심으로 인한 청약철회의 경우 (해외 배송비를 포함한)왕복 배송비를 부담하셔야 합니다.
교환 및 반품안내
· 상품 택(tag)제거 또는 포장(박스) 개봉으로 인한 상품 가치 훼손 시에는 상품수령후 7일 이내라도 교환 및 반품이 불가능합니다.
· 저단가 상품, 일부 특가 상품의 경우 고객님의 변심에 의한 교환/반품은 고객님께서 왕복 배송비를 부담하셔야 하며
기프트 상품이 포함된 배송의 경우 주문상품과 함께 동봉하여 새 상품 그대로 반품 주셔야 합니다.
(제품의 하자, 배송오류는 제외)
· 각 제품은 시장 가격 변동 및 환율변화 사정으로 판매가격이 변동될 수 있습니다.
· 핸드메이드 상품의 경우, 해외 오더 진행후(배송준비중 상태)에는 제품 하자나 오배송의 경우를 제외한
고객님의 단순변심으로 인한 교환, 반품이 불가능할 수 있사오니 각 상품의 상품 상세정보를 꼭 참조하십시오.
· 주문자 의 부득이한 사유로 본사 협의 후 환불이 진행될 경우 해외 오더 진행후(배송준비 또는 발송완료 상태) 주문취소건으로
상품 가격의 10%의 위압금이 발생되며 배송진행 후 환불 취소시 위압금과 별도의 배송진행비 결제재후 취소 처리 되오니 신중한 구매 부탁 드립니다.
· 반품, 환불은 본사 상담 접수후 진행 되며 반품, 교환 시
로젠택배 1588-9988 연락주셔서 방문 예약 잡아주시고 반품 배송비 결제 후 착불로 보내주세요.
환불안내
· 상품 청약철회 가능 기간은 상품 수령일로 부터 7일 이내의 반품 상품 도착과 함께 진행됩니다.
· 제품 포장용 상자를 개봉/훼손 하거나 택을 제거한 경우 환불이 불가하오니 이점 참고해주세요.
A/S안내
· 소비자분쟁해결 기준(공정거래위원회 고시)에 따라 피해를 보상받을 수 있습니다.
· 핸드메이드, 수공예 제품은 A/S가 불가능 한점 양해부탁드립니다.
(손상된 부품은 별도 주문 가능합니다. 전화상담 또는 Q&A로 문의 주세요.)